The Marcia P. Hoffman School Of The Arts At Ruth Eckerd Hall Announce Their Newest In-Residence Instructor, CARL FISCHER, Trumpet Player And Member Of The Billy Joel Band
The Marcia P. Hoffman School of the Arts at Ruth Eckerd Hall have announced their artist in-residence Carl Fischer, trumpet player and member of the Billy Joel Band.
Fischer will be working with jazz students onsite at the Marcia P. Hoffman School of the Arts, and in the community with students and music programs of partner schools several times throughout the year.
"To have an artist of Carl's caliber choose the Marcia P. Hoffman School of the Arts as his "home" is an absolute honor. We are thrilled to welcome him into our teaching staff, and look forward to having him share his expertise and passion for music with our students. What a gift for all involved!" commented Vice President of Education & Outreach, The Marcia P. Hoffman School of the Arts.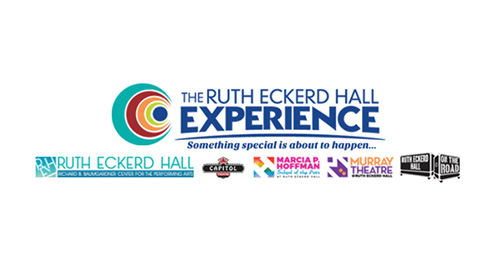 "I am humbled and looking forward to the partnership with this great venue and wonderful educational program. I am excited to be working with the students as well as bringing my two New York-based bands to play in this beautiful venue throughout the year," commented Fischer.  "Now that I am back in Florida, I feel like I have a home where we can all make music, laugh and learn from each other.  I am thankful to everyone at Ruth Eckerd Hall and the Marcia P. Hoffman School of the Arts for welcoming me into their community. It's an honor to have a "southern" residency on my calendar right in my own backyard!"
Carl Fischer is one of the most visible trumpet players of today, keeping a consistent worldwide touring schedule on some of the biggest stages in the world as a featured soloist/multi-instrumentalist (Trumpet, Flugelhorn, Trombone and Saxophones). For more than 12 years, Fischer has been a member of the Billy Joel Band and its record-breaking sold-out stadium and arena tour.  The band is the first franchised music act in history to have a monthly residency at the world's most famous arena, Madison Square Garden (NYC) for four years and counting.
In addition, he has been a featured soloist with the legendary Diana Ross and was the former music director/lead trumpet player with the iconic jazz rock horn band Blood Sweat and Tears. He has also shared the stage and/or recorded with a wide variety of artists, including Paul McCartney, Paul Simon, Stephen Tyler, Wynton Marsalis, Aretha Franklin, Elton John, Bruce Springsteen, Chick Corea, Mariah Carey and Branford Marsalis.
Fischer earned a platinum record/DVD for his performance and participation in Billy Joel's Last Play at Shea. Late jazz legend Maynard Ferguson said Fischer's one of the best jazz trumpeters of today. His unique playing style is the result of a lifetime in music. Fischer first picked up the trumpet at age 5, inspired by his father, a talented trumpet player himself. His professional career began more than 25 years ago when he joined the Lincoln Center Jazz Orchestra, led by highly acclaimed trumpet virtuoso Wynton Marsalis. Following this, he then moved on to join up with Maynard Ferguson, which began with working as trumpet player/personal assistant and ended over a decade later as a featured soloist, musical director and concert opener. This was the first time in Ferguson's 40 years of touring in which Maynard asked a trumpet player to open shows for him.
Fischer has two groups of his own creation; Organic Groove Ensemble and Nouveau Big Band. Adverse Times (2009), by Carl Fischer and Organic Groove Ensemble, was released to rave reviews and garnered high placement on multiple music charts. As the esteemed Mr. Joel commented, "From pop melodies to hard-driving funk, from world flavors to renditions of some of my own compositions, the album will appeal to a wide range of listeners and definitely should not be missed." Fischer's 2015 single, Pure Imagination, is a collaboration with established producer Andy Snitzer. The single featured the lush lyrical side of Fischer and portions of the proceeds from the project benefited children's hospital charities.
Fischer also continues beyond the stage into education, instrument/mouthpiece design and conducting workshops for university and secondary education students on trumpet, trombone, saxophone and rhythm sections. For more information on Carl Fischer, please visit: www.fischmusic.com.
Contact:
Katie Pedretty, Director of Public Relations – p 727.712.2774 – kpedretty@RuthEckerdHall.net
Lacy Herman, Public Relations Assistant – p 727.724.5383 – lherman@RuthEckerdHall.net

Ruth Eckerd Hall, Inc., a 501(c)(3) nonprofit organization, owned by the City of Clearwater, manages and operates 2,200-seat Ruth Eckerd Hall, the 200-seat Murray Theatre, the newly renovated 250-capacity ballroom, the Margarete Heye Great Room, the Marcia P. Hoffman School of the Arts, the 750-seat Capitol Theatre and Ruth Eckerd Hall On The Road.  Our mission is: Changing livesthrough performing arts.
TheMarcia P. Hoffman School of the Arts is one of the largest providers of arts education and outreach in the nation.  Reaching more than 35,000 students annually and providing over 80,000 hours of high-caliber arts experiences with programs encompassing three distinct arts education divisions:  presenting, community engagement and outreach and instruction in jazz, dance, drama, instrumental music, musical theater, voice and technical theater. Each division reaches students of all ages and abilities on the Ruth Eckerd Hall campus and off-site in local schools, hospitals, community centers, specialty residences and other arts centers throughout the Tampa Bay area and the State of Florida.