All Access Recording is proud to showcase this brilliant new band, lead by Carl Fischer (trumpet & multi-instrumentalist w/ Billy Joel). This will be their first informal public performance and will include a multimedia presentation capturing the spirit of this music and the icons who created it!
Come be a part of the audience where the band began and has recorded since January. Did we mention that this is also a FREE EVENT?
Tuesday, June 25, 2019. Doors at 7pm. Performance from 8-10pm. There is limited space so come early to guarantee your seat! All Access Recording is located at 3700 Ulmerton Road, Clearwater, FL 33762.
—————————
Carl Fischer & T.Ë.T.I. -Pronounced- Tet-eye. (Tribute to Evolutionary Trumpet Icons)
Carl Fischer & T.Ë.T.I. is a tribute to the greats that postured as more than just trumpet players, but also as innovators in the music, styles and social movements that surrounded them. These are the trumpet icons that are recognizable even by only their first name. The ones you can recognize from the first note or phrase. They helped to create, and give identity to, musical genres and even crossed between them. Louis, Diz, Miles, Maynard, and Freddie! These were the game changers that shaped not just the way trumpet was played, but also the music itself!
T.Ë.T.I., or Tribute to Evolutionary Trumpet Icons, gives audiences a sonic and visual "look" into these master musicians, with compositions representing everything from their early developments to that which continues to influence even the trumpet greats of tomorrow.The instrumentation of T.Ë.T.I. helps to showcase and accentuate Carl Fischer's unique, exciting, big sound and style as a trumpet soloist, section player and multi-instrumentalist. Joining Fischer is Chicago based Stephen Wright (trumpet/flugelhorn/electronics) and complemented by a dynamic rhythm section, spoken word and multimedia presentation all uniquely crafted for this tribute. It is truly a gumbo of the trumpet greats, interpreted by Fischer, and presented with his own sound…developed in part by the life and legacy of these icons."Make no mistake. The best process to follow, as a musician, is to emulate the greats and then evolve into yourself… finding your own sound" states Fischer. Carl Fischer and T.Ë.T.I exemplifies this, while also showcasing some of Fischer's own compositions. "While I was recording solos for the late/great Maynard Ferguson's album 'Brass Attitude', Maynard said to me 'ah Carl, that's ok, but do it again and now play it like yourself. People want to hear you'! Ok, Mayn…. I'm still trying!"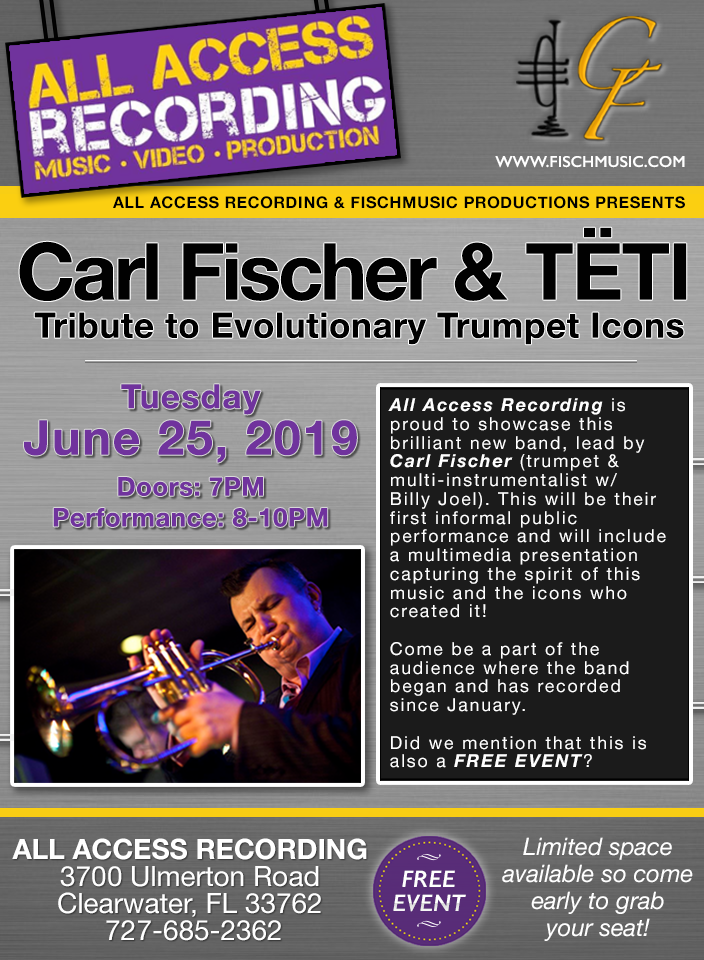 Related show